Double-Digit Growth Drives Long-Term Retail Partnership
When Greg Rice of Ballajura Marketplace IGA chose to learn more about his customers and drive his store's revenue, he turned to Xsights. Data analytics have provided a fresh look into his business, and made it possible to achieve double-digit growth with participating suppliers.
Independent Grocers of Australia – or IGA – is a network of independently owned stores that prides itself on offering unique local favourites in a community-first environment that puts Aussie producers first. Their approach understands that each city where their stores are located is individual, and that diversity is celebrated by tailoring their product lineup to the local customers.
Because local traffic patterns and the needs of customers are foundational to the success of each IGA location, stores must fully understand the habits of their shoppers. By setting themselves apart as a local-first brand, IGA has created a need for each location to focus on the products and offerings that appeal to their own client base – and what works in the IGA X-press in Como won't necessarily work at The Market Place Ballajura IGA.
Rice searched for a way to increase offer awareness at his Ballajura IGA location, and knew he had to reinforce the store's points of difference in the local market. Insight into his shoppers' habits was key to strategizing just how to spotlight the store's offers and measure their efficacy.
To get that insight and create tailored offers for his shoppers, Rice accepted placement of a Welcome Screen with Data Analytics tools for his IGA location.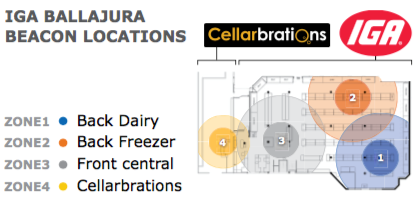 His goal was to develop a qualitative promotion program that used digital signage as a communication channel to drive awareness of offers, and which would reinforce IGA's differentiation points in their local market. The installation of his unique system was seamless, and he had tailored ad promotions setup and running within the same day.
The first step in learning about the customer journey is to dive deep into what your shoppers are doing whilst in your store and to understand the habits that connect each section of the store. Of particular interest was the relation between the store's Cellarbrations liquor sales division and the crossover spending patterns of patrons from Cellarbrations through the rest of the store.
The beacons in these zones provided the much-needed insight Rice was looking for. By looking at the traffic reports, a direct correlation was made between liquor sales and the rest of the IGA revenue: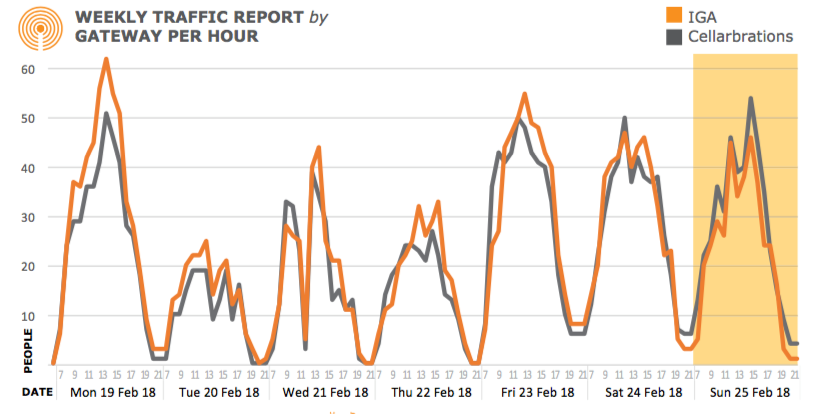 The data Xsights provided even went so far as to let Rice understand how long people were browsing in each section, and how many shoppers stayed for varying lengths of time. He could now adjust his merchandising plans and suggest targeted promotions to his suppliers based on the hard data of shoppers' habits.
To take the data a step further, Xsights created a heatmap for Rice to use when discussing his store's trends with advertisers. The very visual representation allowed him to show where he could leverage existing high-traffic patterns to draw shoppers further into the store. This heatmap put a very clear emphasis on traffic that he and his suppliers could easily connect with.
Rice was able to work with his suppliers to create targeted promotions that leveraged the traffic between the Cellarbrations liquor department and other areas of the store. He – and his suppliers – were quite pleased with the results:
"The Market Place Ballajura IGA has achieved double-digit sales growth with participating suppliers that have taken up ad packages."
–Greg Rice, Owner, The Market Place at Ballajura IGA
Throughout the process, Xsights has been on hand to provide support, adjust strategy, and create tailored reporting options that have allowed Rice to profile his shoppers based on their habits and provide marketing solutions for his suppliers.
Rice's primary goal was always to improve his store's offers and grow his business. As a result of the insight and sales growth that he experienced, he has committed to a long-term partnership with Xsights to continue driving measurable and attributable sales and income.
To learn how Xsights can provide the same growth possibilities for your location, reach out to us at beacons@xsights.com.au or at (03) 9028 4717.